OVER 100 YEARS OF BRITISH EXCELLENCE
Vertex was founded in 1916 by horological visionary, Claude Lyons. Born in London in 1885, he started working in the watch trade at the tender age of 17. Renowned for his brightness and ingenuity, he swiftly garnered an excellent reputation within the watchmaking industry. He set up Dreadnought Watches in 1906 by securing a £1000 loan from his father-in-law, and he paid it back in full within a year.
Vertex Watches
The M100A
Manufactured in our Swiss atelier, the M100A paying perfect homage to the original Vertex's Cal59. It comes with a custom automatic Swiss movement and a unique, moulded Super-LumiNova® dial.
M60 AquaLion ND
The M60 AquaLion is engineered to meet and exceed the requirements of a subaquatic marine environment. It is built to ISO 6425 regulations, Swiss Chronometer Certified, and water-resistant to 60 bar of pressure.
MP45 Heritage
Limited to 50 pieces (25 automatic & 25 manual) this is a contemporary take on the Mono-Pusher timing watch, commissioned by the British government to be worn by bomb disposal experts in 1945.
MP45 Arctic M
With its striking, white dial the Vertex MP45 Arctic is a contemporary take on the Mono-Pusher timing watch commissioned for the British military in 1945. The Arctic is limited to 35 pieces: 20 automatic and 15 manual editions.
As Featured in




"A Tribute To Vertex's Iconic WWII's Army Watches"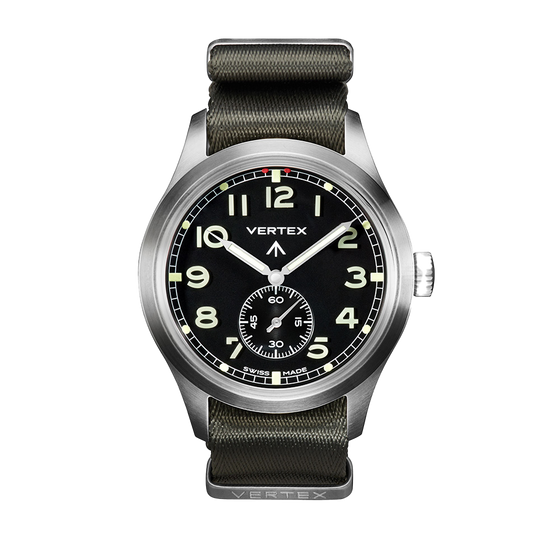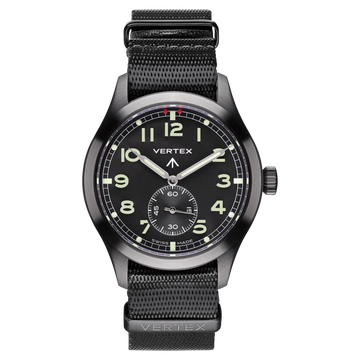 The M100 Series
The M100 series are a set of finely honed 40mm tributes to the watches Vertex produced for the British military.
Shop Now
Not only inspired by history's heroes, but worn by them
Designed to perform under the very harshest conditions, Vertex were the only British watchmaker commissioned to supply timepieces to the military as part of the war effort in WWII